After Keego Mobility attended Taipei Cycle 2022, several prestigious media outlets have reported on Keego's Delivery Ebike.
Leading Taiwanese media such as Taiwan EBC Financial News(東森財經新聞) and Formosa TV News (民視新聞)covered the KG4 and the huge potential in helping fast-growing delivery companies go greener and cleaner.

EBC included Keego as one of their top highlights from the Taipei Cycle Show 2022. Reporter Verna Fu (傅儀文) showed off how Keego's delivery ebike can comfortably fit a full load of groceries and more.
"The front rack can hold 15 kg while the back one can take 50 kg. It won't be a problem if you put an extra-size pizza on it!" shared Verna Fu.

We are also very proud to be featured on the start-up show on Formosa TV, one of the largest news media in Taiwan. 
Formosa TV reporters Fish Liu (呂中漁) and Yeh (葉純豪) have introduced many start-ups and companies with eco goals on their show.  For example, they recently did a report on one of Taiwan's leading companies Formosa Plastics Group (台塑集團) investing NTD 720 million to help its employees switch to e-scooters. We are honored to be interviewed by these experienced reporters and happy they were impressed by Keego's green delivery solution and invited us to share our stories on their show.
In the exclusive interview, our Swedish co-founder Elias Ek, who has lived in Taiwan for 22 years, shared his insights about the delivery industry and the reasons why to start the business in Taiwan.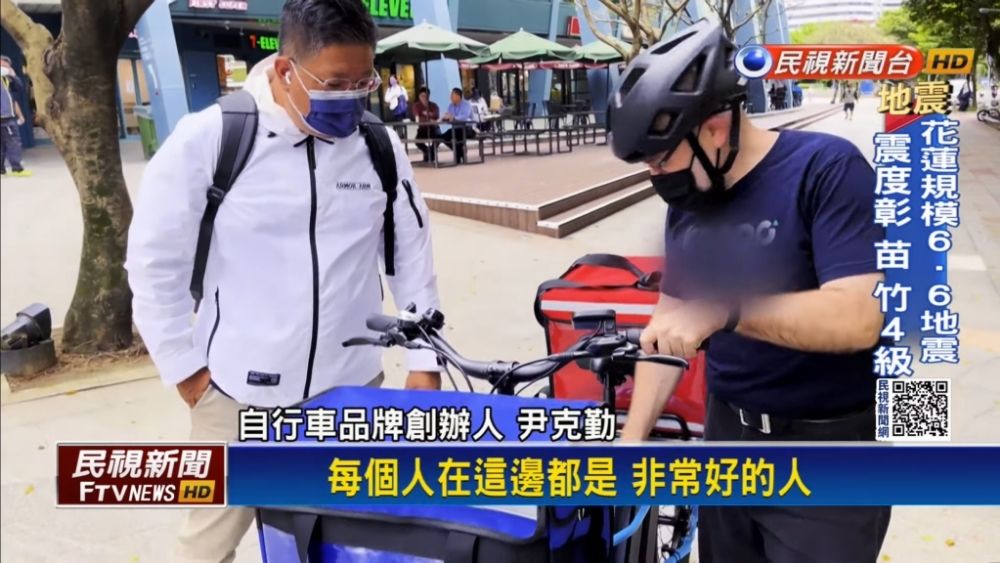 Keego Uses Taiwan's Strength and Talents to Build the Dream Delivery Ebike
FTV reported that Keego has leveraged Taiwan's world-leading bicycle industry to build the best delivery ebike.
Keego insists on producing our ebike in Taiwan, which is known for its high quality and professional bicycle manufacturing.
While the TV cameras were filming Elias riding on the delivery ebike, a man passing by stopped to comment. "The bike looks ideal for Uber Eats. Your idea is very innovative and good for environmental protection," he said.
Keego's Business Idea is on Trend
FTV's reporter was very positive about Keego's growth in the international market, "Because of the pandemic, the demand for food and groceries delivery has soared. There is a huge business opportunity in the delivery industry." We could not agree more.
There are already delivery companies in over 20 European countries testing Keego's Delivery Solution, and the scale of Keego's operation is growing.
If you are interested in the ultimate delivery ebikes and our solution for courier businesses, contact us to optimize your delivery business today!
See The Full Interview About Keego on FTV's Start-up Show