A study done in Europe shows that 51% of all motorized trips in urban areas that transport goods, could be shifted to using bikes. Their definition for "bikeable" transports, is that these trips move less than 200 kilograms of cargo no more than 7 kilometers.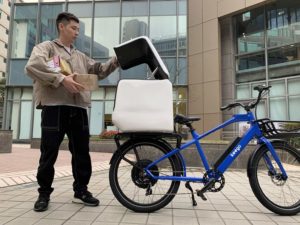 This study was done in 2015, well before the recent explosion of restaurant and grocery deliveries and companies promising deliveries in as little as 10-15 minutes, so the number of possible bike deliveries have for sure increased since. And if we add a purpose-built, IoT-enabled, pedal assist electric bike like what Keego is offering into the mix, we can decarbonize more transports with higher demand for speed and delivery distance. Since the driver gets ample help from the electric motor, more people are physically able to handle the delivery job in a reasonable comfortable manner.
A country like the United Kingdom has made great progress towards decarbonizing their power network by installing solar, wind and wave power plants. Recently the UK reported times when for the first time in centuries, they did not have to burn any coal to generate power. But despite recent increases in electric vehicles, carbon emissions from the transportation sector has barely falling in the last decade. Sales of electric delivery vans are on the rise, but not only do they still take up a lot of space in the cities, they are also over dimensioned for the many small, short and fast deliveries that companies and consumers are getting accustomed to. It makes no sense for a quick delivery of a meal, a couple of bags of groceries or a box of office supplies would need to be loaded into a huge van. Ebikes to the rescue!
Keego delivery ebikes are purpose built for deliveries with sturdy frames that can survive a full and and busy working life.