In 2019, the whole world was impacted by the pandemic, and people's lifestyles underwent a huge change. Things that people were used to, were no longer easy. As we adapted to the pandemic, some products and services became indispensable, and last-mile deliveries were one of them.
Unstoppable e-commerce trends and last-mile delivery
People are more and more used to ordering things online. To attract customers, delivery companies often advertise their services as "we deliver in 10 minutes" or at least same-day delivery. From the customers' point of view, it is great to get their orders as fast as possible, but to reach the goals, there must be more couriers available to do the deliveries. With 30 million delivery drivers already on the roads and about 80% of them riding gas-powered mopeds and motorcycles, this means more CO2, particle pollution, and noise.
As online ordering becomes more popular, our e-commerce habits have led to a 20% increase in carbon emissions. WEF (World Economic Forum) estimates that last-mile delivery services will emit up to 25 million tons of CO2 annually by 2023. Facing this popular and unstoppable e-commerce trend, what can the industry do to decrease their carbon emissions?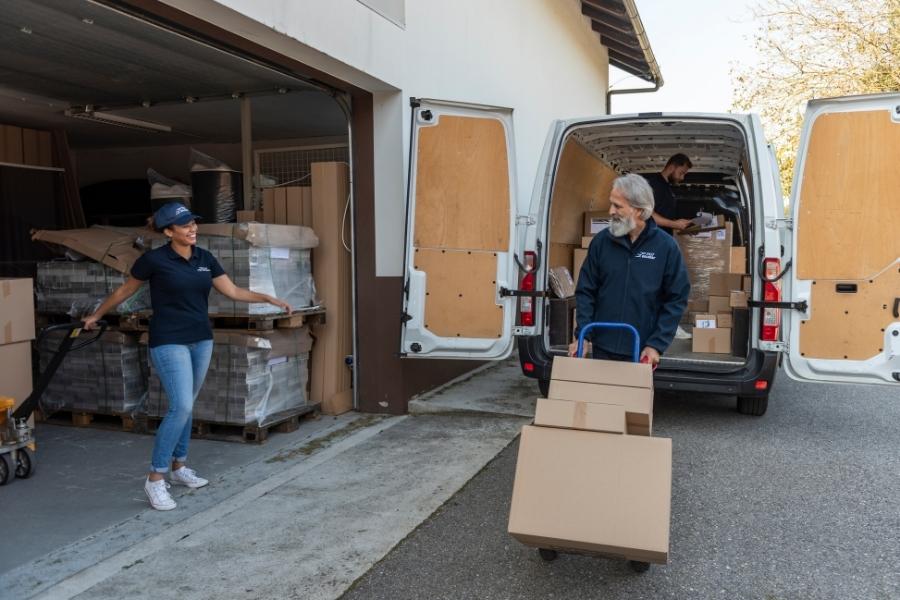 1. Route optimization
Last-mile delivery is about handing a parcel to the end customer, which means couriers have to go all the way to their houses. As most of the couriers use gas vehicles, every parcel will be delivered with significant carbon emissions. Therefore, it's crucial that the couriers can deliver all the parcels using the shortest possible route. With less distance traveled, emissions can be reduced and couriers are able to finish their work quicker. New companies and services are launching to help delivery companies do this, like our friends at Trailze. Their maps and routing advice is developed specifically for "micro-vehicles" like delivery ebikes.
2. Out-of-home delivery / Parcel locker
As mentioned above, last-mile delivery means couriers delivering parcels directly to the customers. What happens if the customer is not at home when the delivery is to be made? For products that are not quite time sensitive the alternative is "out-of-home delivery". Couriers will put the parcels in a parcel locker close to the customer's address, and the customers can go pick up the parcels by themselves whenever convenient. With out-of-home delivery, couriers don't have to go to so many places, which can decrease 75% of the carbon emissions. On average, using one parcel locker can reduce emissions of 13.8kg of CO2 annually compared to if the same number of parcels had been delivered to people's homes.
In Taiwan, one of the biggest e-commerce platforms, Shopee, now sets up a "shop-to-shop" service, where people can pick up their parcels at a pickup place like a convenience store. In order to be practical, these pick-up spots need to be located so customers can simply walk from home to the shop without creating extra emissions of their own. In other markets, dedicated delivery "stores" are opening. In this way, the carbon footprint can be reduced dramatically.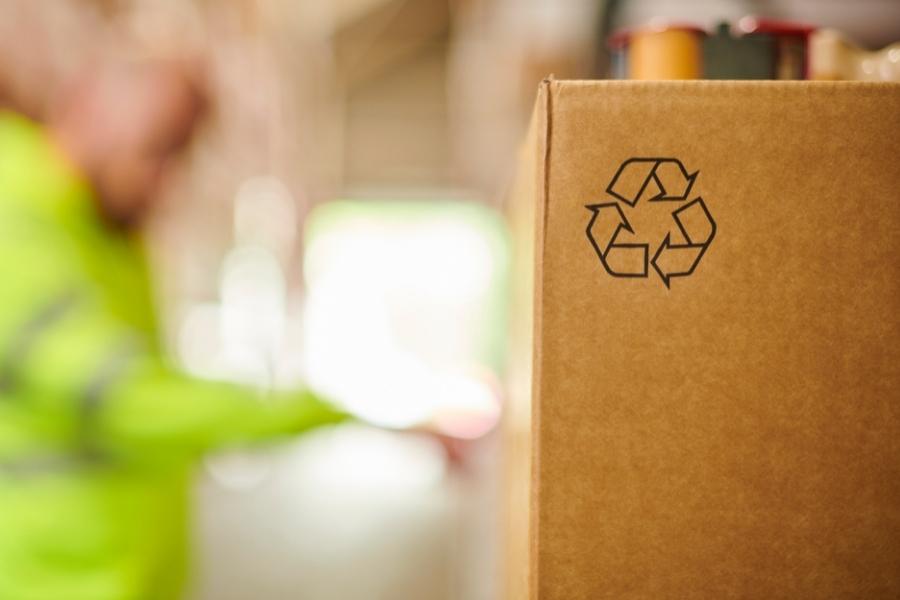 3. Greener packaging options
To make sure parcels arrive to customers in perfect condition, parcels are often over-packaged. You may think that "it's just a plastic bag," but it does harm the earth. Choosing recyclable or compostable packaging materials can really help the reduction of carbon footprint.
For e-commerce parcels, there is reusable packaging that you can return to the company via the postal service or the next courier like from Taiwanese Package Plus.
For food deliveries, more and more companies are using compostable paper or pressed leaf boxes without plastic linings or covers. Swedish company Pulpac has invented a method to use paper in traditional plastic injection molding machines, leading to fewer plastic products needing to be recycled or burned.
4. Electrical vehicles
Most vehicles still run on fossil fuel, and so are delivery vehicles. Using vans and scooters causes not only air and noise pollution but also serious traffic congestion. Replacing them with electric vehicles like ebikes when transporting smaller items is the best way to solve these problems. Right-sizing the delivery vehicles is very important. Rule of thumb is, if you are transporting a sofa, pick the van, if it is a pizza, pick the ebike.
In the past, charging batteries was very time-consuming, the range of the batteries was short and the price of the vehicles was expensive. Most of the delivery companies and couriers have for this reason not been willing to choose ebikes as their delivery tools. With the development of better technology, batteries are now cheaper and the range increased. Some ebikes have batteries that even last for the couriers' whole shift.
Another huge reason for not switching to ebikes was the lack of professional grade vehicles. Consumer ebikes were simply not strong enough to be used professionally for 5-10 hours every day.
When comparing the total cost of ownership between ebikes and gas vehicles, ebikes are significantly cheaper. Take the battery, for example, to charge Keego's KG4 delivery ebike's 13.5Ah battery will take 0.486 kWh of energy. In Europe, the average price per kWh in 2021 was €0.2369 per kWh. So it costs about €0.1 to fill a battery once. The KG4 can travel up to 40-60 Km on one charge but let's say 50 km on average so that becomes €0.002 per kilometer.
We can compare that with a gas scooter that on 1 liter of gasoline can go an average of 50 km. Just to pick one market, in 2021 in Sweden a liter of gasoline costs €1.4, so a 50km journey would cost about €1.4 or €0.028 per kilometer, which is 14 times more than for the KG4 delivery ebike.
Then you have to account for other costs like insurance, license, vehicle purchase costs, oil, oil filters, and other maintenance costs to get the total cost of ownership. So choosing ebikes not only reduces the carbon emissions but also decreases the cost of making deliveries.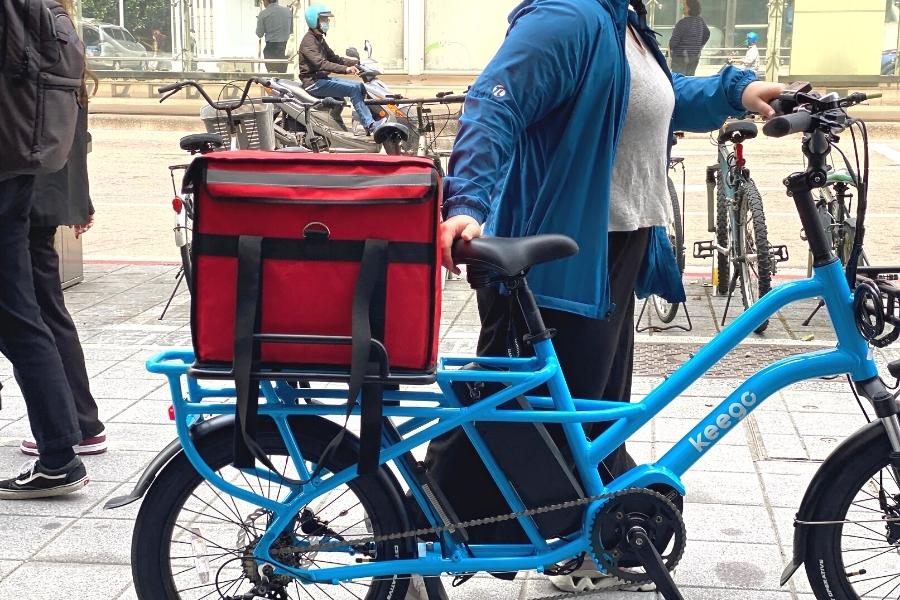 Consumers like it green
Delivery companies may be concerned that if they help the earth, it will push up prices so customers will choose other delivery companies that are not as "green". The fact is: no. According to a survey done by an American logistics consultancy, 43% of the customers prefer companies that have sustainable consciousness, and they are willing to pay 5% more for greener delivery methods. Therefore, offering greener options would not lead to losing customers, on the contrary, they'll love your brand even more. Highlight the delivery method in your APP and advertising; if possible enable the customer to choose the type of vehicle they prefer and you will see your customers respond.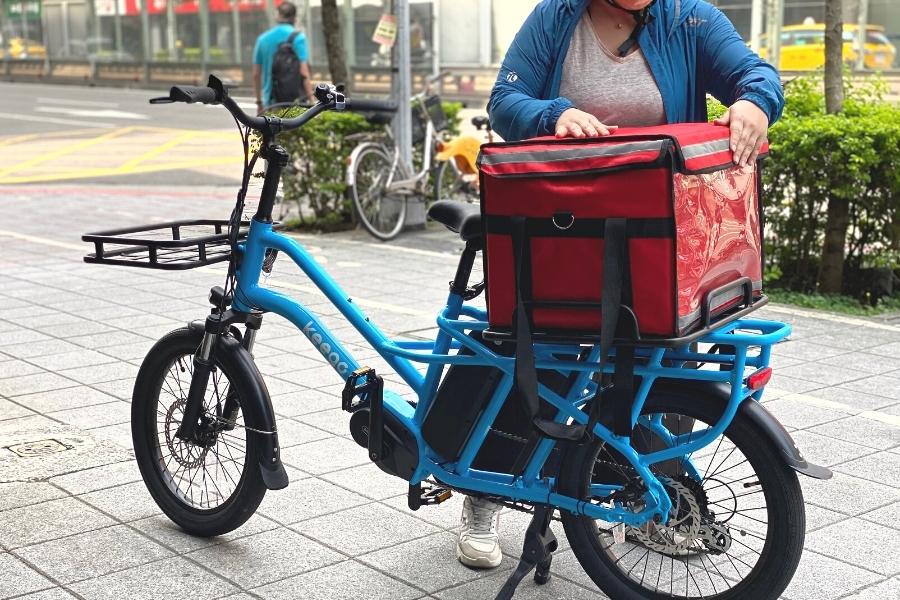 Keego's ebikes are built for delivery, with front and rear racks that can take up to 65 kg of cargo and a quality front suspension fork for a smoother ride. With an optional second battery, you will have plenty of range for a full day of work.