Ebikes are increasingly considered an efficient and eco-friendly mode of transportation, many ebike brands and leasing services are flourishing. There are many choices of ebikes with a great variety of features and styles. 
However, when it comes to delivery, finding the ideal ebike for your fleet can be difficult. 
How can an ebike meet all the needs of couriers and really help them with their deliveries?
Keego Mobility's mission is to make delivery easier and more efficient for both businesses and couriers. 
In this article, we will explain how we developed the ultimate delivery ebike, KG4, and how it solves key problems for couriers.
What do food delivery couriers really need?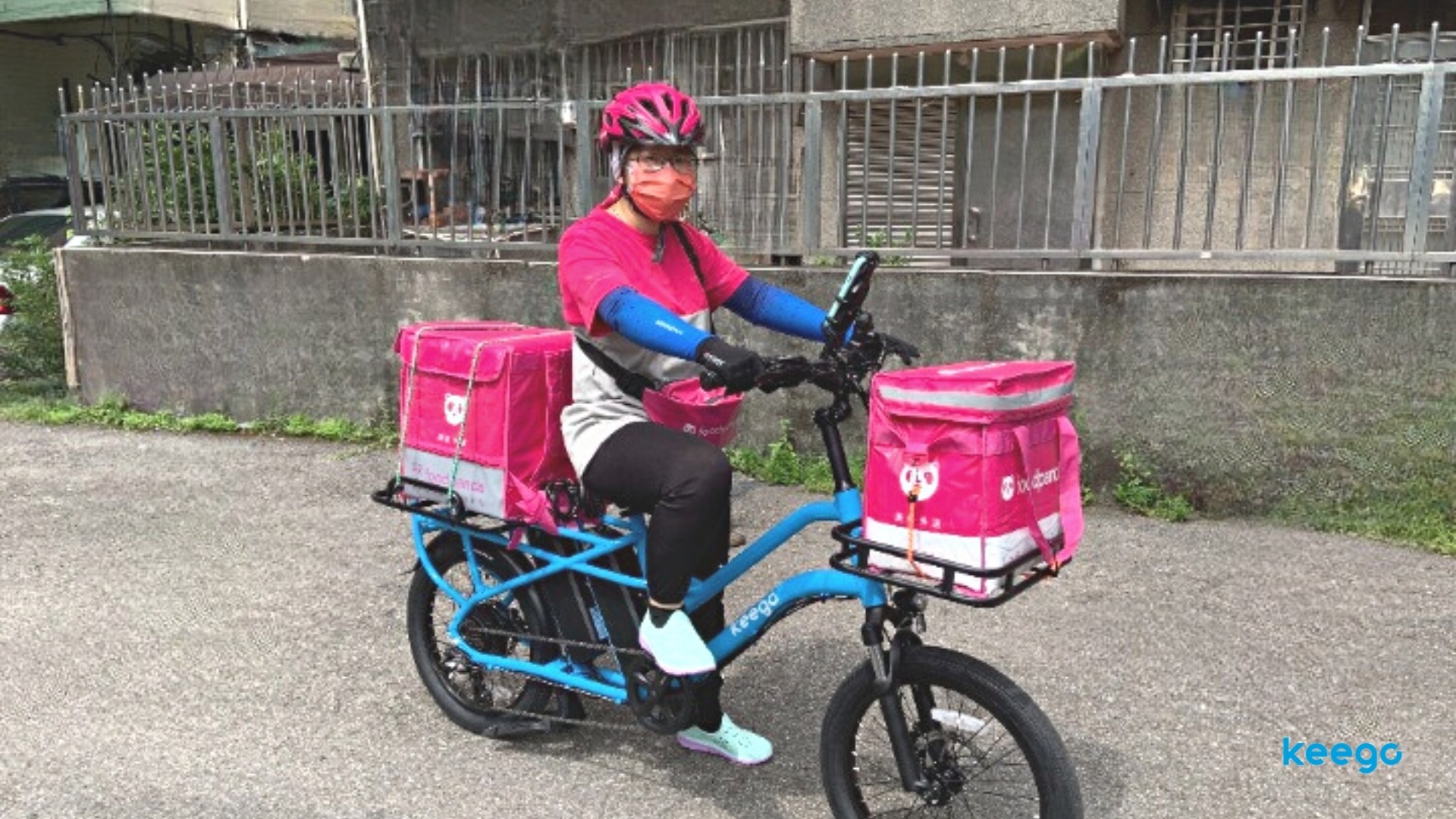 Since 2020, Keego Mobility has conducted research among food couriers from Foodpanda, Uber Eat, McDonald's, etc. who use bikes or scooters to deliver food.
By interviewing the couriers and organizing ebike delivery tests, we have come to understand their daily lives, the challenges they face, and their actual needs in a delivery vehicle.
1. Average Speed
From the interviews we learned that the primary concern of couriers is speed. Speed is the major variable for the number of orders a courier can take per hour which directly affects their daily income. 
The key point is not the top speed of the vehicle, but instead, it is the average speed from pickup to delivery. This speed includes considerations such as which route you can take, where you can park etc.
"Even though the motorcycle is much faster than an ebike, I always spend a lot of time waiting for traffic lights and finding a parking space. It really slows me down a lot," says Miss Lo, a student who also delivers for Uber Eat.
Since an ebike is legally counted as a bicycle, it has access to bike paths, can park on sidewalks etc. that a motorcycle can't. Also, here in Taiwan, riding an ebike is generally faster than a motorcycle in congested areas because couriers do not have to spend time in the waiting zone with the motorcycles.
2. Stability of the Cargo
The stability of the vehicle is essential. Some of the couriers mentioned that it would be helpful to have a stable cargo rack on the vehicle, to ensure that when they arrive at the destination, the food items still look as good as it did coming out of the kitchen, even if the ride was a bit rough.
"We often have to deliver things like pizza, soup and drinks. It would be a disaster to put them in a backpack. If you arch your back while biking, the cheese on the pizza will slide to the side due to gravity," Mr. Jiang, a courier who has delivered food by both bike and ebike, explained.
3. Load Capability
The couriers who frequently deliver groceries such as heavy water bottles or bulky packages of tissues pay the most attention to the load capacity of the vehicle. 
"Usually we need two or three couriers to pick up a single grocery order because it is impossible to carry so many things with just one bike or motorcycle," said Mr. Gao, an Uber Eat courier, "even when one courier can handle the order, it's very exhausting for us to pedal the bikes and hold the weight on the back at the same time."
KG4: The Dream Delivery Ebike Built According to Couriers' Wishes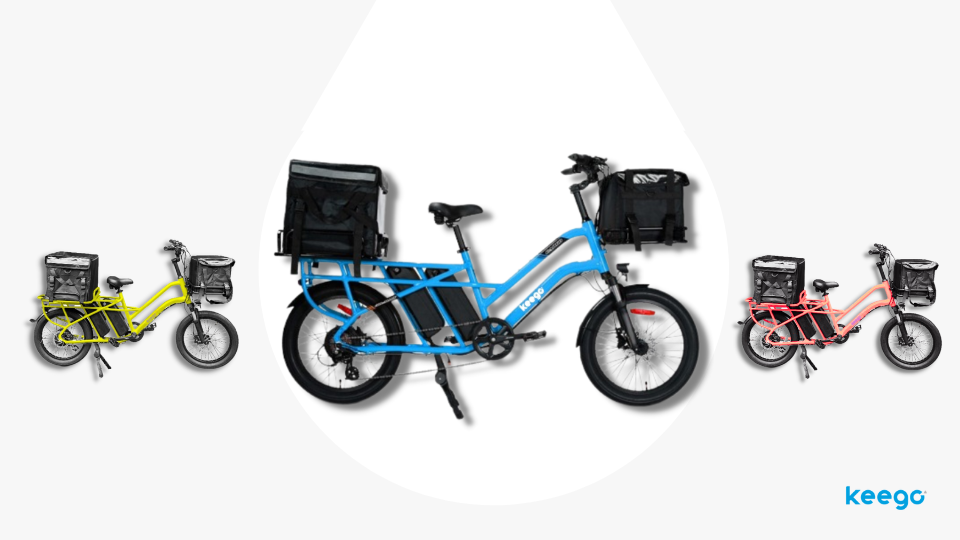 Based on the feedback from the couriers and data from the ebike delivery tests, Keego Mobility invested more than a year to develop an ebike for delivery. Keego proudly introduces you the ultimate delivery ebike, KG4.
Every detail of the KG4 has been well thought out to avoid the problems couriers might have with other vehicles and to empower them to be more productive:

Rear-Hub Motor. Speed Up with Ease
In accordance with European laws, KG4 was built to reach a top speed of 25 km/h using the motor power. You can of course always pedal faster, just like on a non-powered bicycle.
Back and Front Rack. Strong and Steady
KG4 has a front rack that can hold 15 kg and a rear rack that can carry 50 kg, for a total load capacity of 65 kg. Moreover, a shock absorber is installed in the front to make the ride smoother.
Thanks to this design, couriers don't have to carry the burden on their backs while pedaling hard, and they don't have to worry about spilled drinks or crooked pizzas.
Dual Battery. Double Power
KG4 comes standard with one battery and can be fitted with a second optional battery for a total range of up to 120 kilometers.
According to our research in Taipei, couriers drive on an average of 50-100 kilometers per shift. Therefore, with the optional second battery, the distance the KG4 can cover is more than enough for the courier to concentrate on their daily work without any range anxiety. And, if the KG4 would run out of battery you can of course always just pedal it home like any regular bicycle.
Low Top Tube. Easy to Mount
KG4 are designed as a step-through with a low top tube to make it easy for couriers to mount and dismount even when the ebike is carrying heavy cargo.
Power Up Your Fleet With the Easiest To Use Delivery Ebike Ever!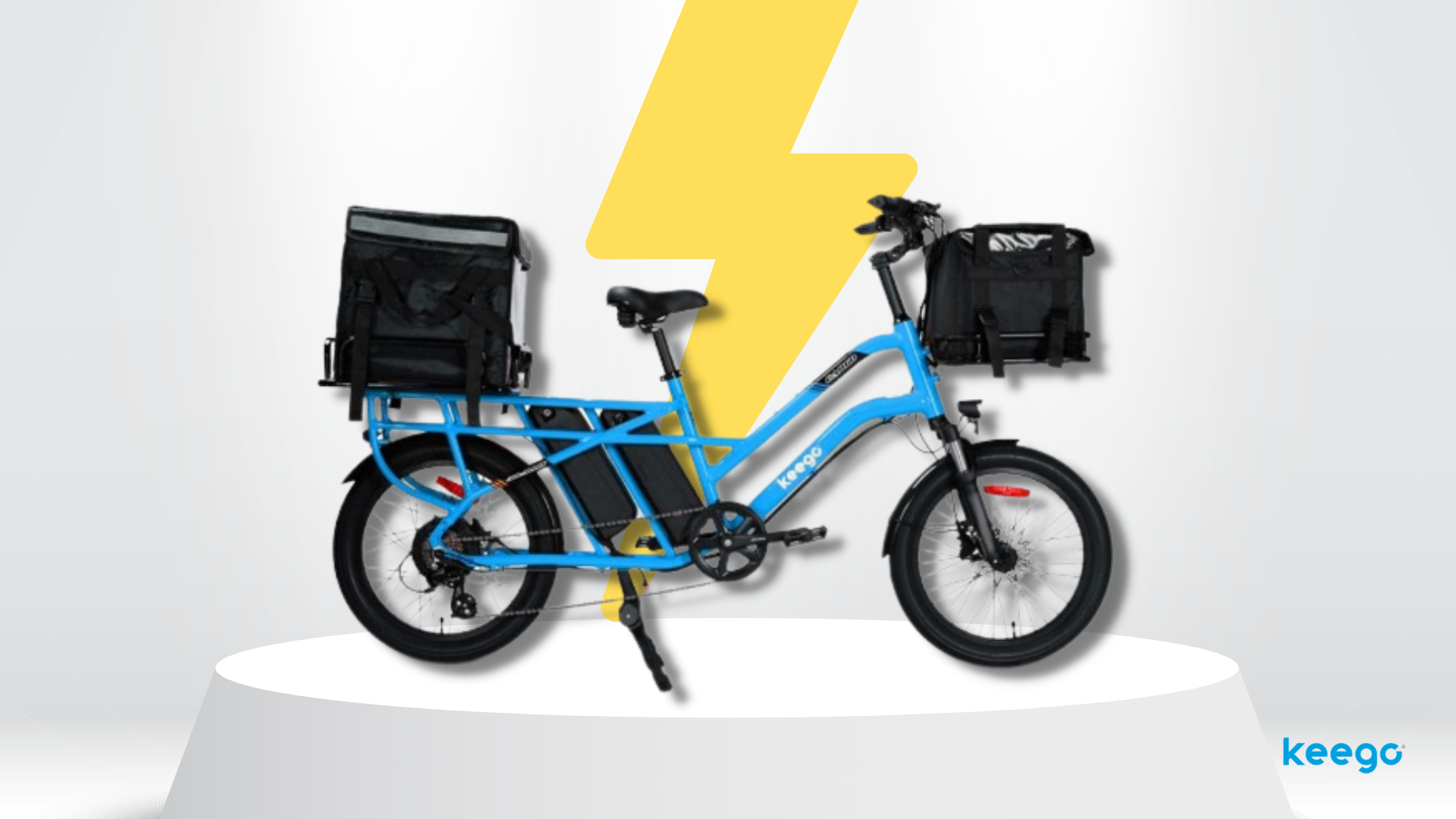 Keego Mobility's mission is to provide a complete solution for the delivery industry to be courier-friendly, green, and profitable. KG4 is a flexible vehicle created to achieve the goals and make delivery jobs easier. 
With the ebike especially designed for deliveries, your fleet can not only have better working conditions but also become more productive. 
If you are a delivery company looking for the best solution for your business and fleet, inquire now about the ultimate delivery solution from Keego Mobility.