Our first public Delivery Ebike test-riding event in Stockholm took place on August 28.
While the weather in Sweden has become cooler, the passion we all felt for greener deliveries was warm. We always say that our Delivery Ebike is built for couriers, so it was great to see so many of Stockholm's thousands of couriers enjoy riding our bikes.
The test riding was taking place on Medborgarplatsen, a focal point of business and leisure in the middle of Stockholm's trendy southern neighborhood Södermalm and was open from 11 in the morning to 5 in the afternoon. In between delivery jobs, the couriers delivering on behalf of great companies like Uber Eats, Bolt, Wolt, Foodora and more showed up and took a KG4 out for a spin.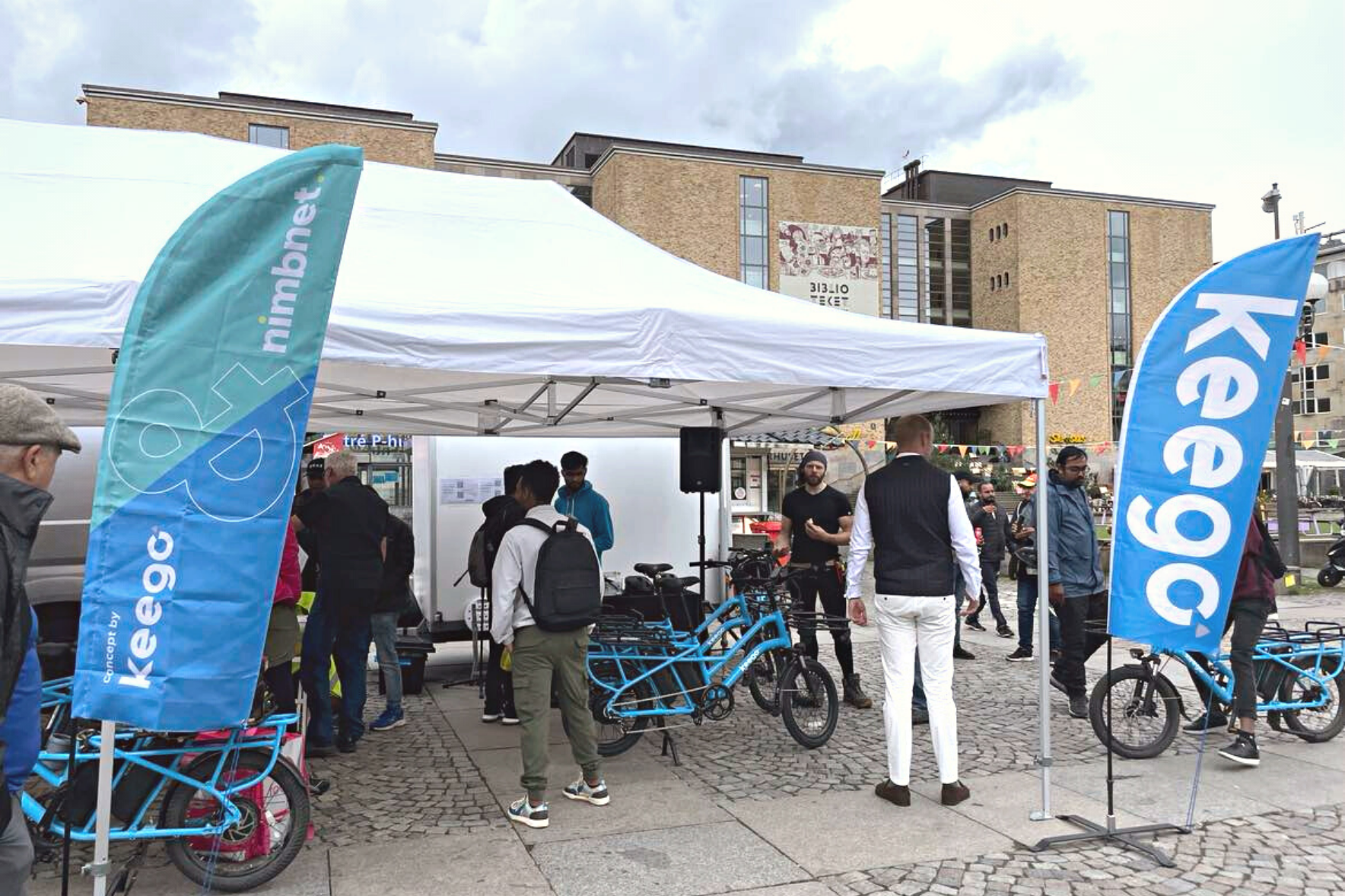 Free the fuel, free your purse
As the city of Stockholm is turning more and more neighborhoods into fossil fuel-free zones, couriers who want to deliver to these areas have no choice but to switch their mopeds and motorcycles to cleaner vehicles. At the same time it is important to couriers that they have a professional vehicle with a low total cost of ownership so they can make more money. The KG4 delivery ebike can provide this and more. With two large bags mounted on the ebike, couriers will never have to wear an un-ergonomic backpack anymore where cold and hot items get shaken all the way to the unfortunate customer.
Big thanks to our friend Glen Hodgson, Founder & CEO of Free Trade Europa, who came out to see how we help improve the daily work situation and net incomes of freelancing couriers. Andreas Di Fine from our partner Uber Eats could see so many of their delivery partners come and test our ebike and hear their feedback. And, Hugo Wolgers, Founder & CEO of our customer Cyklande Rörmokaren joined us to share with the audience how he and his fellow plumbers use the KG4 every day to get to and from their job sites.
Nimbnet x Keego building courier hub together
One of Keego Mobility's key partners, Nimbnet, was also represented by David Svedberg. Together with the innovative EV-charging point operator, Keego is developing Lightning Hubs, redistribution centers where cargo will arrive on a truck and be redistributed to our delivery ebikes for the last mile delivery to the customer, all while the vehicles are being charged. By doing these two time-consuming activities at the same time, the productive time of the electric trucks can be greatly increased.
We all had a great time and are looking forward to doing many more of these testing events all over Sweden. There are thousands upon thousands of couriers who need better delivery vehicles. Follow us on Social Media or our Website to stay tuned for our upcoming events!