The Keego team around the world is growing. And where before face-to-face was the norm, now online everything is really taking hold. By necessity. Personal meetings is still the backbone of good business and friendship.
Our Sales Manager for Europe, Middle East and Africa, Mahyar Ghassemi, has been working at Keego for quite some time by now, but up to last week he had not had the chance to meet anyone else from team. Due to travel restrictions and quarantine rules, he was hired and onboarded all via online chat. Then finally our co-founder Elias Ek had to visit his native Sweden from Taiwan despite it resulting in him spending 2 weeks in quarantine upon his return. So Elias and Mahyar took the chance to get to know each other and also see some exciting new delivery businesses in Stockholm about them going green and clean by using Keego Delivery Ebikes.
"It is fantastic that we now HAVE great tools to connect across the world, but you sure can't beat a real face to face sit-down. We learned more about each other and built more trust in a day then we had in many months before," said Keego co-founder Elias Ek, "I really hope that the world manages to sort out the COVID threat so we can start traveling when needed."
From talking to some excellent customers in Stockholm, they learned that Scandinavia is still a relatively nascent market for online purchasing and delivery of groceries and restaurant food. The average for all industries in Sweden, is that about 25% of transactions happens online with air plane tickets at the top with 63%. Groceries is at the opposite end of the scale with just a 4%. This means there is a huge market up for grabs for those companies who can run a tight ship and make money.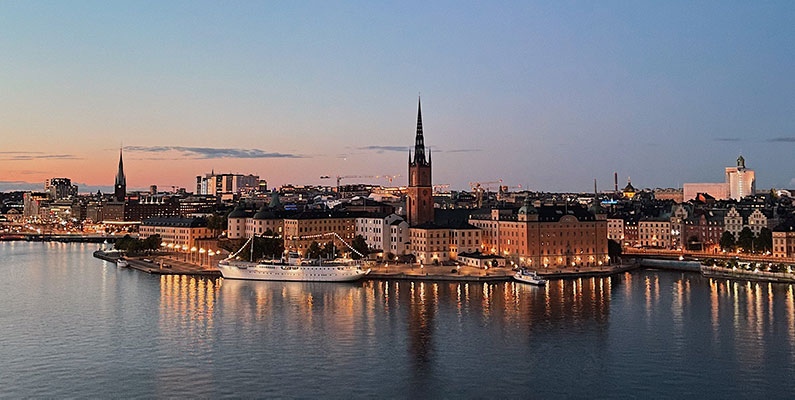 Elias and Mahyar had been worried that Scandinavia would be too cold for delivery ebikes, but from their conversations with potential customers they found that they are really interested in buying a purpose-built, sturdy delivery ebike like ours. Many of them told us they had already tested consumer ebikes and liked them but they broke down too often to profitable. Of course they need snow tires and other winter accessories which Keego is very happy to supply.
So after the meetings and a nice dinner, Mahyar and Elias said "good-bye and see you online". At least until Eurobike in July when they hopefully will be able to meet again and talk many more customers together and how Keego ebikes help Last Mile Delivery Companies to Green and Clean.
Stay safe everyone!