On 24 March, 2021, Keego Mobility was honored to be invited to present our vision for Eco-Logistics and green deliveries during the ECCT LCI Event – 2021 Sustainable City Forum & Eco-mobility & Eco-logistics Report Launch 2021 in Taoyuan City, Taiwan.
The Sustainable City Forum is one of the major annual events of the Smart City Summit & Expo. Since its first meeting in 2017, the forum has received positive feedback every year. Aiming to achieve the UN's Sustainable Development Goal of making cities sustainable, the event's organizers Taoyuan City Government, SCSE, ICDI, ICLEI KCC, and the ECCT's Low Carbon Initiative (LCI) brought together global leaders and experts to share smart solutions in renewable energy, energy efficiency, green finance, circular economy, and Eco-Logistics.
More than 200 leaders from Taiwan and around the world participated in the event which was divided into two sessions: "Green Transition & Renewable Energy" and "Eco-Mobility & Eco-Logistics".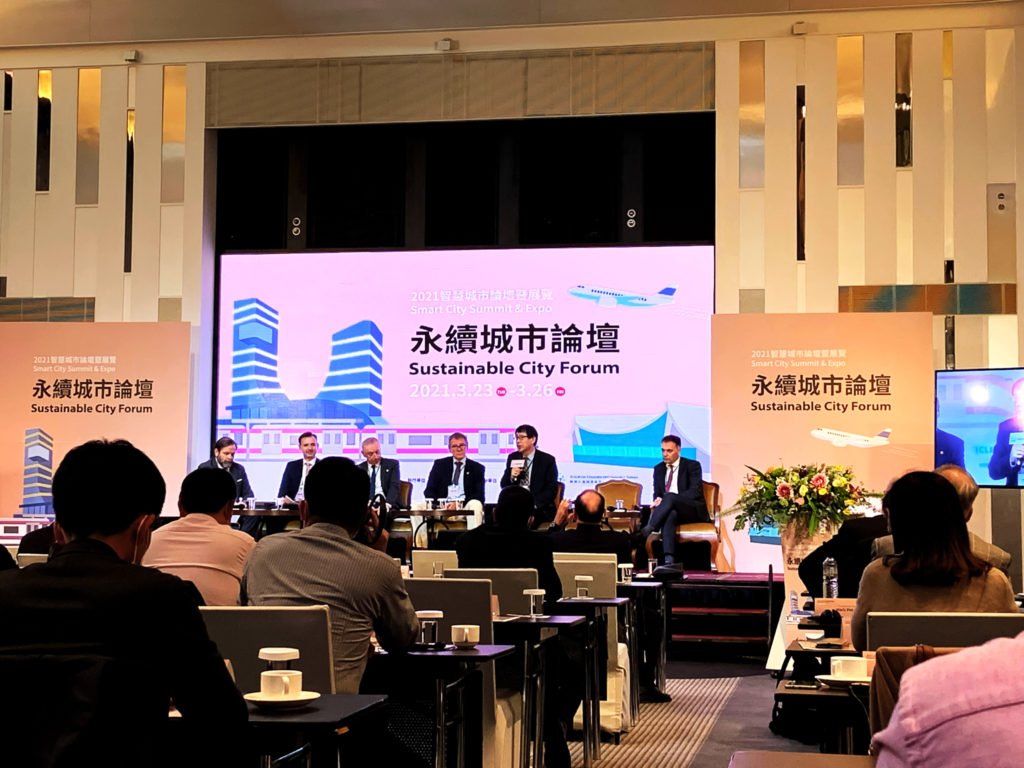 The first session included representatives from the public and private sectors to share their experiences in promoting urban development through green transitions and increased use of renewable energy. The second session focused on how to implement and strengthen cooperation between local governments and the private sector on green mobility and green logistics.
Taoyuan City under the leadership of Mayor Cheng Wen-Tsan has taken a pole position among cities to promote Eco-Logistics and Eco-Mobility. During the evening Taoyuan Night Banquet, the Mayor introduced the Taoyuan City Government review on their Sustainable Development Goals. With a population of 2.5 million, Taoyuan City has a significant environmental impact and Mayor Cheng and his administration has many inspirational initiatives to help the city and the world to become sustainable.
Daxi Business District : Sustainable Logistics Returns Back Residents a Quiet Town
One initiative that is close to Keego's mission is the historic old town of Daxi, where the government and residents came together to reimagine the neighborhood to be quieter, cleaner and more sustainable. One of the many action points was to set up a distribution hub from which low emission freight vehicles like Keego's cargo e-trikes take the products to their final destination. This removes the need for big and dirty delivery vans to travel on the crowded streets.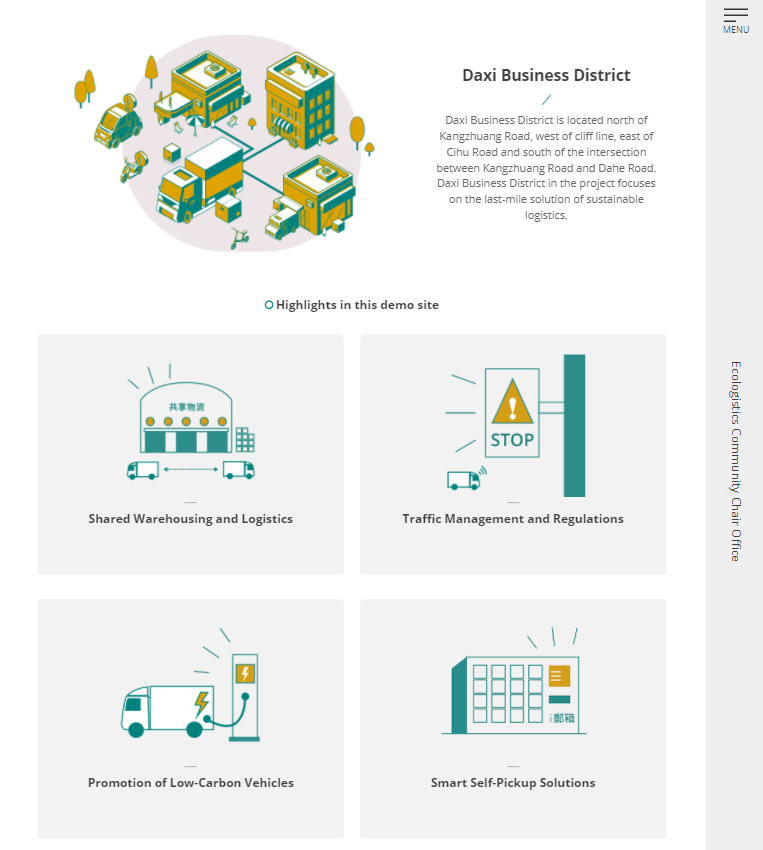 The next speaker was Lin Tze-Luen, President of the International Climate Development Institute (ICDI), a non-profit Think Tank providing professional knowledge and skills on climate governance. They support local communities and vulnerable groups on capacity building to achieve climate-resilient and sustainable lives. A very inspirational speech.
Then spoke Giuseppe Izzo representing the Low Carbon Initiative Committee (LCI) from the European Chamber of Commerce. The LCI was established in June 2012 to showcase the best European low carbon solutions to raise awareness about sustainable development and to promote the adoption of low carbon solutions in Taiwan.
Keego Mobility to Last Mile Delivery Industry : Ebike v.s. Van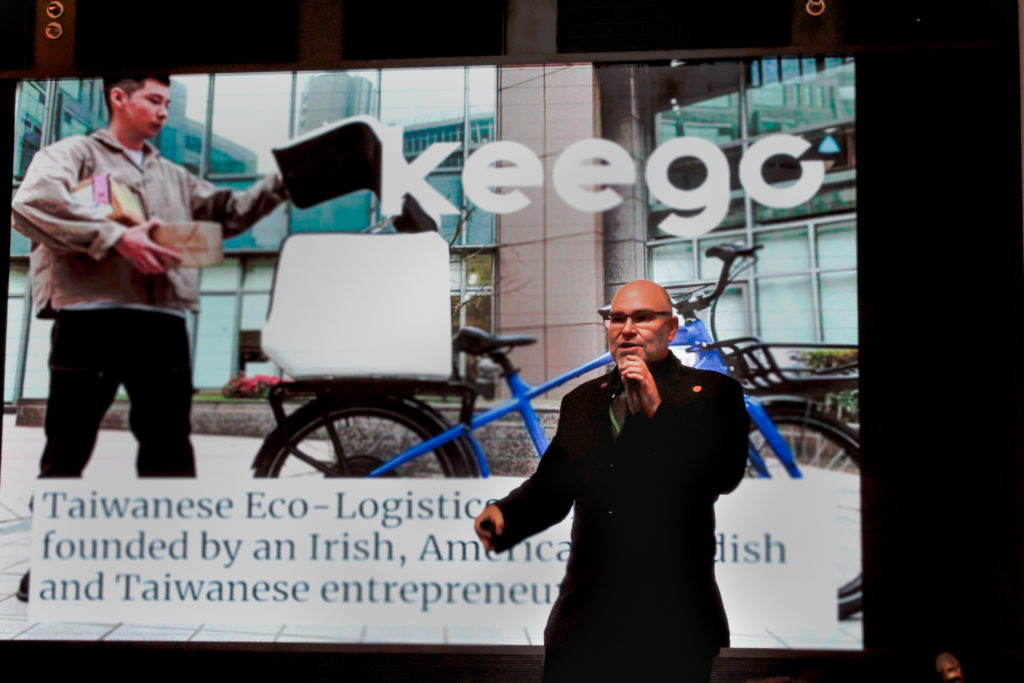 After that it was up to Keego Mobility's Elias Ek to share with the audience our vision of how electric bikes and trikes can help decarbonize the growing Last Mile Delivery industry. In Europe, up to 25% of downtown traffic is made up of delivery and service vans and 10-30% of that traffic can be replaced with electric bikes and trikes.
Since an electric bike only uses 4% of the energy of a van, enormous amounts of energy and pollution would be saved every year. 
The speakers from all over the world spoke about programs we need to implement to reach net-zero emission. The European Union has set the goal to reduce 2030 emissions by at least 55% and reach net zero emission by 2050. Taoyuan City has the target to cut carbon emission in the city to 50% of 2005 levels by 2050. All this to meet the Paris Agreement's goal of limiting global temperature rise to 2 degrees Celsius by the end of the century.  
Keego Mobility is looking forward to working with Taoyuan City and other government agencies to help the world right-size their delivery operations and reach these essential goals.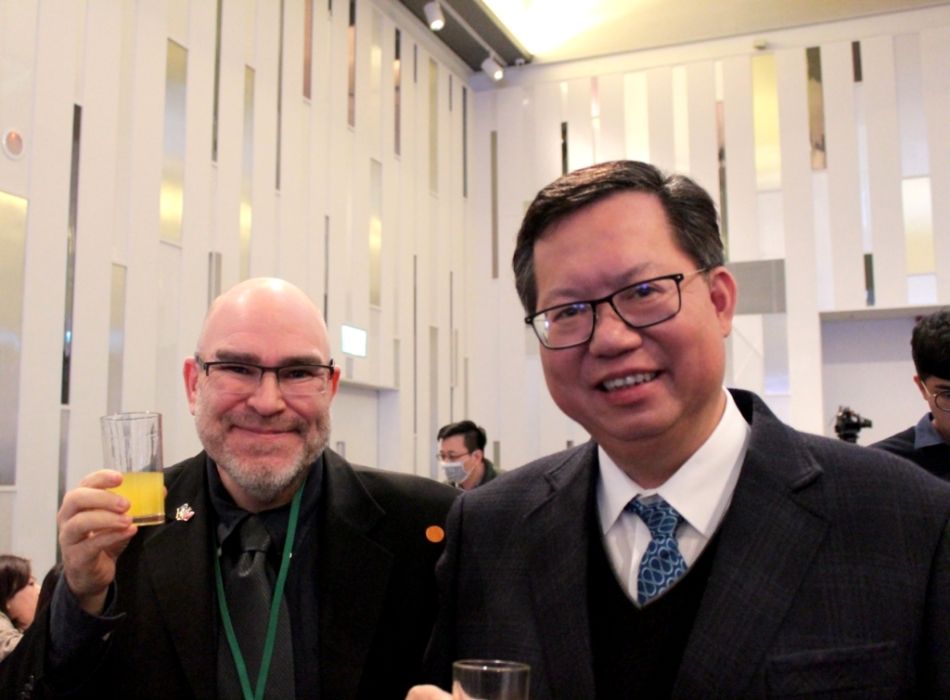 Keego Mobility's Elias Ek and Taoyuan City Mayor Cheng Wen-Tsan 鄭文燦
The event had representatives from a great number of organizations that work towards reaching the Paris Climate Agreement: